Project Background
Greenbox Architecture is a leading independent architecture and interior design practice operating across Australia and the broader Asia Pacific region from their Sydney CBD studio. They work across the commercial, residential, data centre, workplace interiors and healthcare sectors.
Their experienced team of 45 includes architects, interior designers, strategists, project coordinators and BIM (Revit) technicians. Greenbox are currently working on a diverse portfolio of projects ranging in scale from 100sqm to 130,000sqm, and construction budgets from $400k to $3b.
To create a seamless experience for employees and clients, Greenbox have adopted a cloud-first strategy. During their recent office move, the business was focused on implementing an enterprise-grade wireless network that would support both their cloud strategy and enable the use of new technologies.
"We're a people-first business and we want to continuously leverage new technology to create seamless experiences for both our employees and clients. That's why we adopted a cloud-first strategy. We're also architects for data centres, so we have to practice what we preach. Finding the right IT partner to come on this journey with us was key to achieving this."
Danial Nash
Senior Associate, Greenbox Architecture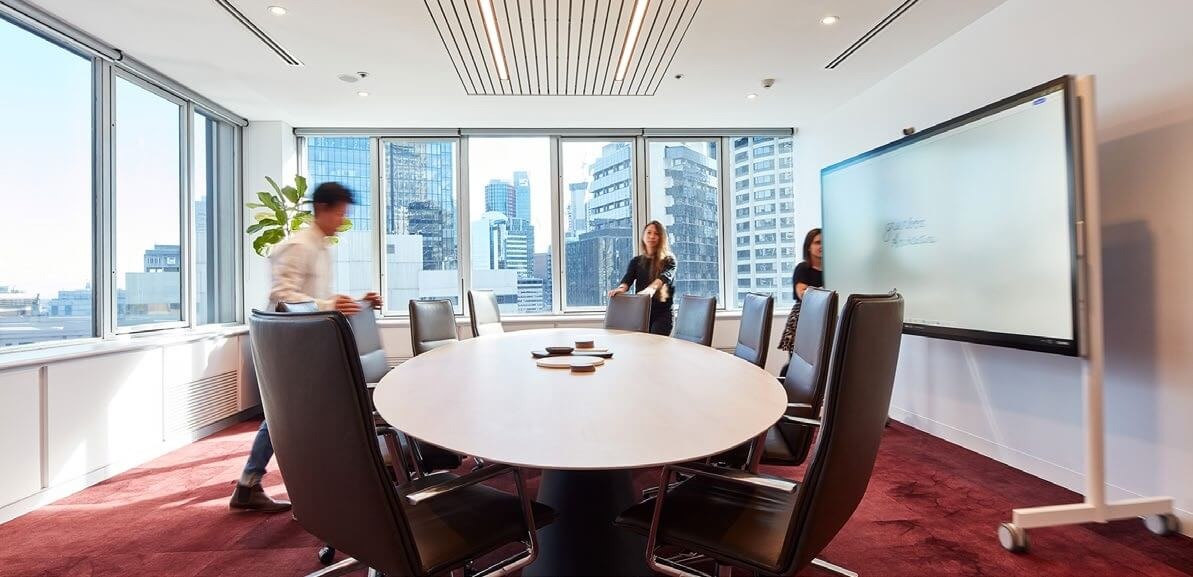 Requirements & Solution
"We had previously worked with Datcom to migrate our on-premises infrastructure to a data centre rack, and for a range of other IT services. When it came time to upgrade our wireless network, we knew they already understood our vision and could help us achieve a scalable, resilient, and reliable solution to create a better experience for both staff and clients."
As a future-thinking business that specialises in architecture for data centres, Greenbox Architecture are focused on innovation and leveraging the latest technology to create unique experiences. Implementing a modern wireless network played a key role in making this a reality.
As well as laying the foundation for innovation, Greenbox also wanted to reduce the cost of downtime they were experiencing on their previous network. With architects running programs such as Revit in the cloud, any network downtime was causing them expensive productivity issues.
The main requirements of the upgrade included:
Enterprise-grade network security
Fast and reliable 24/7 connectivity throughout the office
Scalability
Smooth integration with existing Palo Alto Networks firewalls
Network redundancy
Elimination of IT sprawl
Solution
Datcom Cloud worked closely with global leader Aruba Networks and the team at Greenbox to design an enterprise-grade custom wireless network. As part of this process, heatmapping was conducted to fine-tune the solution.
Aruba Wireless Network
Aruba AP-505 Access Points provide intelligent multi-user performance, simple IoT deployment and management, and strong encryption and authentication
Aruba ToR and 5406R zl2 Switches deliver unified management and simplified network design, automated policy enforcement, and always-on performance that removes bottlenecks
Scalability makes it easy for the network to grow with Greenbox
Centralised cloud management with a single pane of glass
Network redundancy with no single points of failure
Significant improvement to cyber security posture
Full integration with Greenbox's Palo Alto Networks Next-Gen Firewalls for seamless monitoring, Multifactor Authentication for VPN, and threat detection
Results
"We believe we've now got the best Wi-Fi system in the market to support both seamless office Internet connectivity and connectivity to our hardware and data centre. Datcom worked through our network to ensure there are no slow points or bottlenecks."
With a modern wireless network, Greenbox is now in a better place to grow and leverage new technologies. The main benefits include:
Increased network performance and better wireless coverage
Cost-effective solution that can grow alongside the business
Enterprise-grade infrastructure
Increased productivity for their staff, less downtime, and a seamless user experience
Reliable support from Datcom Cloud and Aruba Networks
Modern Meeting Rooms
When Greenbox designed their new office, they envisioned seamless meeting rooms without fixed audio-visual elements. Each room focused on a beautiful piece of art, in place of the usual large, black wall-hung AV screen. The business then invested in a large, interactive, portable touch screen with a built-in camera and microphone, allowing flexibility of meeting spaces throughout the wider workplace.
Datcom Cloud installed dedicated Wi-Fi access points in the meeting rooms to provide seamless connectivity for this new technology. Greenbox can change the room configuration to suit each meeting style, optimising the space for internal and external meetings. A staff member can simply walk into the room with their laptop, connect to the screen and start presenting. "We get a lot of positive feedback about meeting experiences from people who visit our office. And this is all made possible by our robust Wi-Fi network," says Danial.
"You don't have to go to a particular space for the technology. Technology can now come to you wherever you are in the office. You go from having two meeting rooms to eight. That wasn't possible with our previous wired configuration."
Supporting a Mobile Office Experience and BYOD
With all staff operating on mobile devices, the new wireless network is invaluable. The wireless access points (WAP) have been designed for a seamless experience as Greenbox employees and visitors move through the office.
Datcom Cloud helped fine tune the design to ensure any lag issues were resolved. For example, the range was adjusted to allow devices to connect to the nearest WAP instead of staying connected to one on the other side of the office. This provides a strong signal and smooth transition from one WAP to the next. The ability to move effortlessly around the office empowers their team of 45 to easily collaborate at any desk or in any meeting room. This has significantly improved team efficiency and productivity.
The enterprise-grade network security also supports Greenbox's Bring Your Own Device (BYOD) strategy by providing multi-factor authentication and single sign-on. This level of security also helps provide smooth IoT experiences such as door locks that can be opened using phones that are connected to the Wi-Fi network.
With Aruba wireless networking, Greenbox now has the modern connectivity they needed to bring their digital vision to life.
"We made the switch to Datcom around 3 years ago and we haven't looked back since. I'm always impressed by the great communication and fast response from their technicians. As a result, they're now managing and standardising our entire IT environment."